NEWS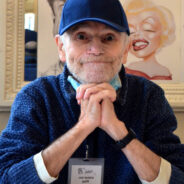 An outstanding guest at the 8th World Humor Awards!
JEAN MULATIER
At the age of five, he caricatured himself, drawing himself with a huge head on a small body. After secondary school at Paul-Valéry high school where he met Patrice Ricord, Jean Mulatier trained in graphic arts at ESAG Penninghen in 1966. The following year, in 1967, he passed the entrance examination to the National School of Decorative Arts in Paris, ranked 7th out of 1,300 candidates, where in the fourth year he specialized in engraving. In 1969, he joined the Pilote newspaper and produced comic strips1. Then, with Patrice Ricord, he created the Grandes Gueules series, hyper-realistic color caricatures, published by René Goscinny, on the back cover of "Pilote" magazine. From 1967 to 1972, he simultaneously ensures the continuation of his studies, and his collaboration with Pilote. Previously, he contributed to Télé 7 jours, with Le Croqué de la Semaine, in black and white. In view of the success of the Grandes Gueules, Mulatier and Ricord integrate a new collaborator into their team: Jean-Claude Morchoisne. In his studio located on the fifth floor of a building in the 20th arrondissement of Paris, each caricature done in India ink and with a brush requires him to work for around twenty hours2.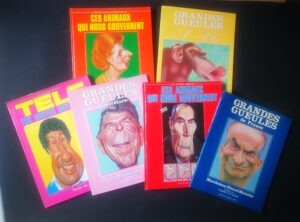 Les Grandes Gueules invade the national and international press. His are published in Paris Match, L'Express, Le Nouvel Observateur, Le Figaro (daily and magazine), Libération, Fluide glacial3, Lui, Elle, Der Spiegel, Stern, Time Magazine, Esquire, The Daily Telegraph, Jornal do Brasil, European Illustration, Graphis, Japan Illustration…etc.
In 1974, the trio left Pilote to create Mormoil, a comic book magazine for adults4. Both editor-draughtsman-caricaturist5 and artistic director of the monthly, Mulatier will invite André Franquin to produce comic strips against the grain, well before the Idées noirs. Loup, Boucq, Loisel and Binet, among others, will publish their drawings there.
In 1979, the first compilation of their works was published: Les Grandes Gueules, by Éditions du Pont Neuf.
In 1980, the trio met in the same workshop, which was to be the headquarters of their self-publishing house: Les Éditions de l'Atelier. They published a dozen collections including Ces Animaux qui nous Gouvernant and Grandes Gueules par deux accompanied by texts by Pierre Desproges.
In 1986, Jean Mulatier left the Atelier to devote himself to photography.
In the 1990s, he returned to portraiture by joining Ricord for a time on his editorial page for the Express, and continued to work in nature photography at Figaro magazine and at Vivre au jardin, through the Agence Gamma.
In 1993, he published, in solo, Gueules de ciné, with Éditions La Sirène, and in 1995 he reunited with Patrice Ricord for the album Gueules d'Etat with Glénat.
His charged portraits have often been considered fierce in their exaggerations. Thus his caricature of Leonid Brezhnev published in April 1978 in the Stern was at the origin of an incident between the Soviet first secretary and the spokesman of the German press, Brezhnev not appreciating the way in which he had been represented on the cover of the magazine6. In 2003, the Pilote newspaper revived for a summer with the release of a special summer 2003 issue and he took part in it7, he then collaborated on another exceptional issue: the Pilote "Special Christmas" in 20048.
Living in Paris, he teaches however, since 2005 in Lyon and on a regular basis, the technique of caricature, press cartoons and comics, at the Émile-Cohl school.
A large retrospective traveling exhibition, entitled Mulatier exposes his Faces-Book, 40 years of caricatures, presented more than 200 of his best drawings and photos, during the last Quai des Bulles festival in Saint-Malo, in October 2010.