Francesco Tullio Altan Special Guest 2021
Francesco Tullio Altan
Special Guest of the sixth edition of the World Humor Awards
Francesco Tullio Altan was born on 30 September 1942. he He studied architecture in Venice without finishing university and moved to Rome in the second half of the 1960s to work in film and television as a set designer and screenwriter.
He signs his cartoons for the monthly Playmen and in 1970 he moves to Rio de Janeiro, where he works for the cinema and creates his first character for children: Kika & Jaime appears in 1972 in the Journal do Brasil.
In 1974 he began a regular comic production for Italy, giving life, on the pages of Linus, to Trino, a god-travèt intent on creating the world.
He then creates for children the dog Pimpa for Il Corriere dei Piccoli and the cult character of Italian satire, the metalworker Cipputi, who appears in L'uno, insert by Linus, in 1976.
In the same year he received the Yellow Kid as the best Italian cartoonist in Lucca.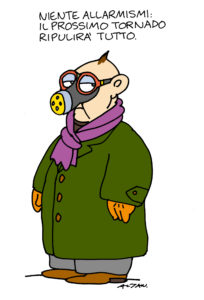 Cipputi's cartoons are published on the Panorama news, then on L'Espresso and the newspaper La Stampa, on satirical periodicals such as Tango and Cuore, on the cult agenda Smemoranda and by the publisher Bompiani.
In 1987 La Pimpa became a publication published by Panini. The comics appeared in the Milano Libri-RCS magazines, then collected in volumes: Sandokan (1976), Colombo (1977), Ada (1978), Fritz Melone (1979).
The characters created for the younger audience, such as Kamillo Kromo, also in the Corriere dei Piccoli, were also appreciated. In addition to satire and comics, he writes and illustrates children's stories that are also published abroad, throughout Europe, in Japan.
In 1990 Altan designed the scenes and puppets for the story of the baby elephant Babar represented at the Teatro Litta for the Teatro alla Scala in Milan.
From Nudi e crudi, the strip he published in Tango, a satirical insert in the newspaper L'Unità, conceived and directed by Sergio Staino, the feature film Non chiamarmi Omar  was born in 1992, directed by Staino.
Also in 1992 he illustrated the stories of Gianni Rodari for Einaudi editore.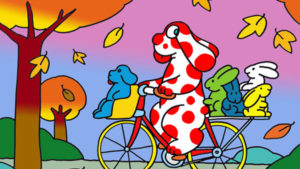 Since the 1980s, Pimpa has also been the protagonist of series of animated drawings, which appeared on television and are still very popular with children today.
In 2019 the documentary Mi chiamo Altan e faccio fumetti was dedicated to him by the director Stefano Consiglio, awarded at the Turin film Festival 2019.