2020 Awards Ceremony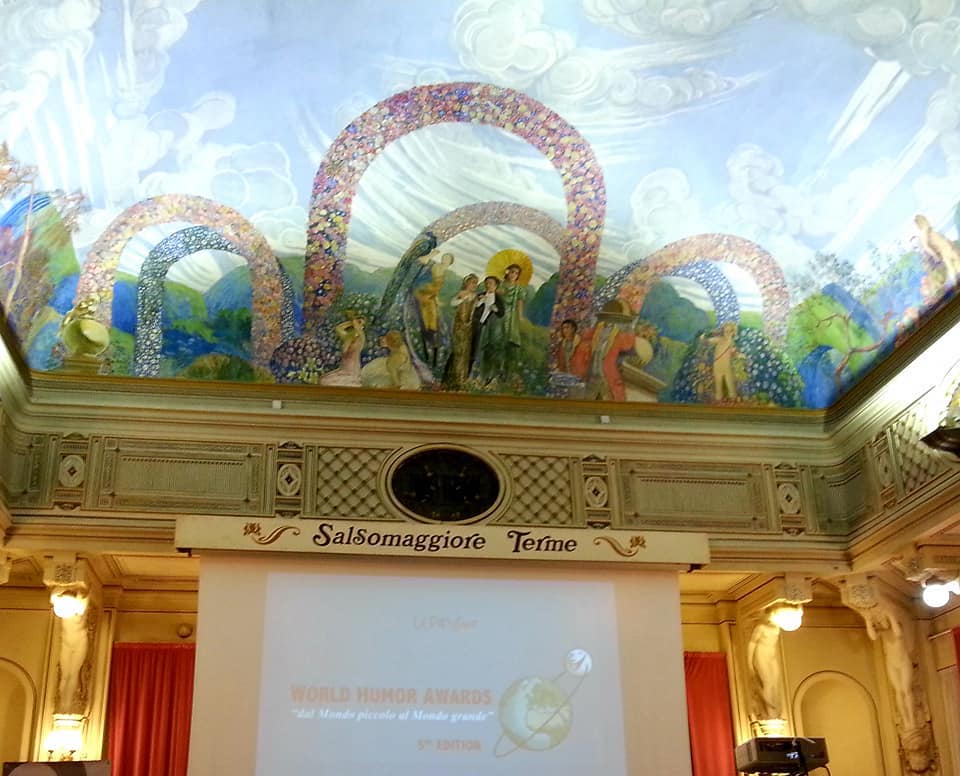 The fifth edition of the World Humor Awards, despite the conditioning due to the pandemic for Covid 19, saw a further increase in participation with over 250 artists who from 71 countries around the world sent their works to submit to the evaluation of the international jury chaired by Guido De Maria. The competition, as usual, is divided into two sections: Cartoon, this year on the theme "Water, source of health" and Caricature, a free theme.
Due to the difficulties of Covid which arose for international travel, not all the winning authors, especially foreigners, were able to attend the award ceremony which, introduced by a pleasant musical interlude by the group "Il Sogno", took place in the prestigious setting of the Sala delle Caryatids in the Palazzo dei Congressi.
Start with special rewards. The first recognition went to Bruno Bozzetto who collected the "Buduàr ​​Prize" conferred by the entire editorial staff of the online magazine.
Following Guido Silvestri, aka Silver, (absent, contacted by phone) "Humor in Comics Award" and Claudio Onesti, aka Clod, "Rino Montanari Award" reserved for Italian authors. Giuseppe Gardenghi, president of FITeL Emilia-Romagna, awarded these two special prizes.
For the Cartoon section, the first prize went to the Chinese Qiang Liu, who sent a video of thanks and greetings, hoping to be present on a future occasion, as brilliantly translated by the host. Second prize to the Hicabi Demirci (Turkey), third prize to the Italian Virginia Cabras, but resident in Dublin, absent for family reasons and intervened by telephone. Still for Cartoon, five awards of excellence: Christine Traxeler, Trax (France) and Andrea Pecchia (Italy) and three absent Toso Borkovic (Serbia) – Keyvan Varesi (Iran) – Elena Zheleznyak (Ukraine). The prizes in the Cartoon section were awarded by Adriano Fava, President of EmiliAmbiente who motivated the collaboration for this year's edition.
Pasquale Gerace, councilor for culture of the Municipality of Salsomaggiore, intervenes at the delivery of the prizes for the Caricature section. The first prize goes to Regina Vetter (German-speaking Switzerland), the second to the Spaniard Ernesto Priego (absent, but contacted by phone), the third prize to Leonardo Cannistrà (Italy).
Special Guest of the World Humor Awards 2020 a true excellence. The Serbian artist, but resident in Lucca for twenty years, Gradimir Smudja, unfortunately absent due to a domestic accident the day before, as he explained during the phone call.
Brief speech by the writer Giancarlo Governi, present in the room, who received the Prize for humor in literature dedicated to Guareschi, awarded to Roncole Verdi by Giovannino's heirs.
The conclusions and greetings of the commissioner Gerace close the awards ceremony, before moving on to the Sala delle Colonne to see all the works on display.